German Shepherd Dog
TRUE HAUS KENNELS
TOP QUALITY !
QUALITY ISN'T EXPENSIVE..... IT'S PRICELESS!!

since 1968


BREEDING AND TRAINING GERMAN SHEPHERD DOGS
---

This litter has been placed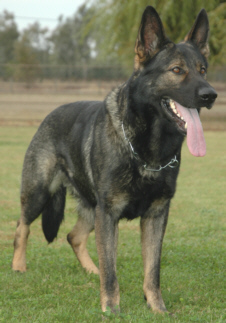 TOM vom HAUS PIXNER
Korklasse 1
OPO3 several times with excelent scores 100,96,94
(OPO is same as IPO)
see score book below
Competitor in the WUSV 2005
hips a fast normal, elbows 0/0,
Black Sable
SZ-Nr. 2096643
tattoo-Nr. S-B 6154
AKC # DN12581701
Date of birth 10-28-2001

TOMMY'S PEDIGREE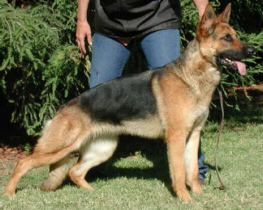 MI-JOS CAYENNE
call name "CAT"
SchH BH, CGC, CD, GN, FO, OB1, P1, PD1, OB2
OFA Good, elbows normal,
Black & Red
S652208/2005,
Tattoo-Nr. S65208
AKC # DN19422101
Date of birth 10-16-2005
height 24 inches
weight 60 pounds

CAT'S PEDIGREE


week two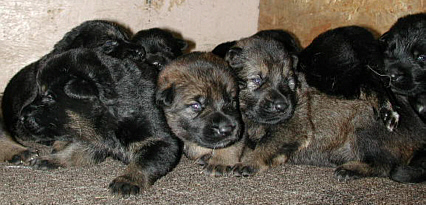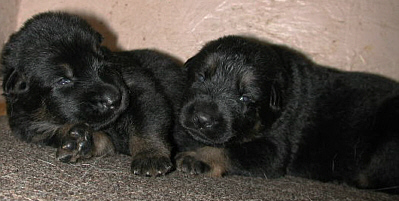 week three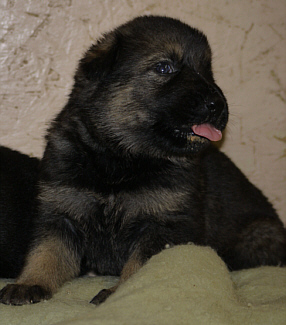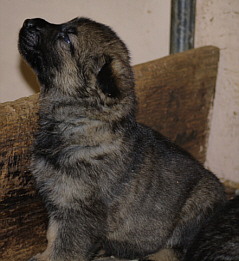 week four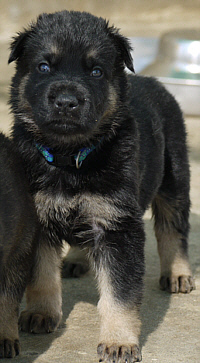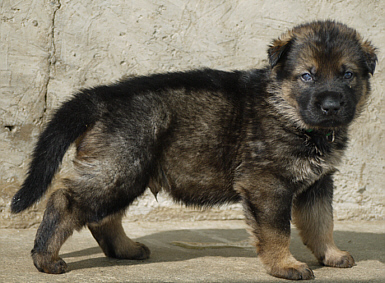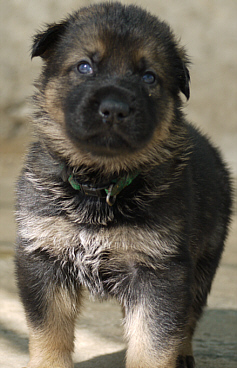 week five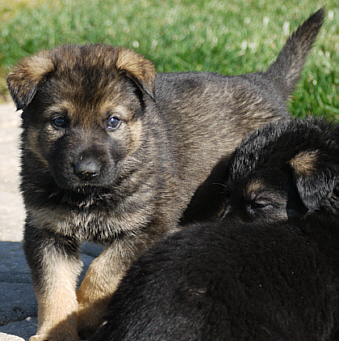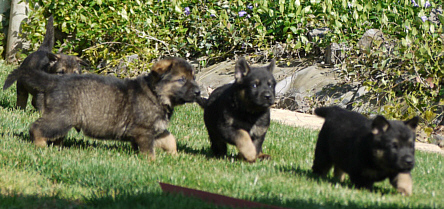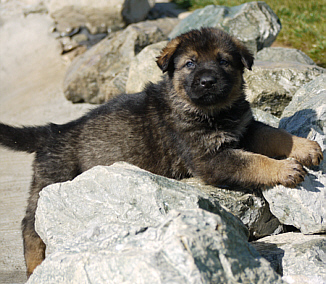 week six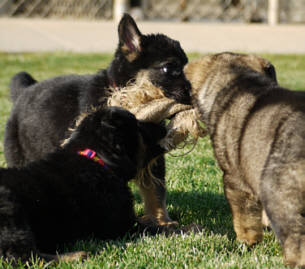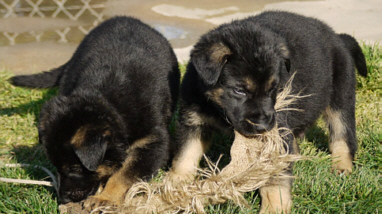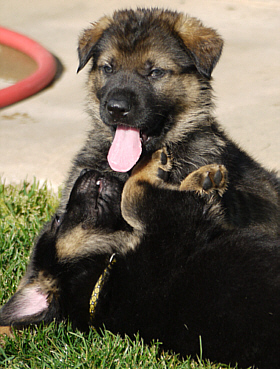 week seven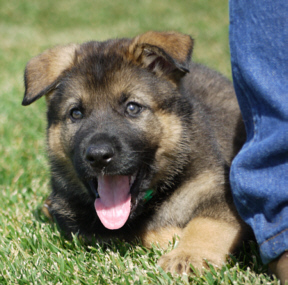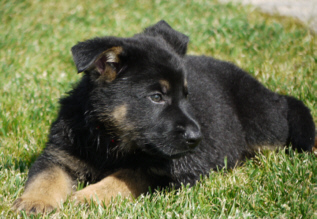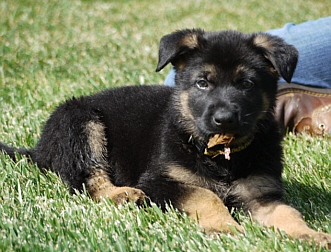 ---
6-21-2009
Oroville, Ca.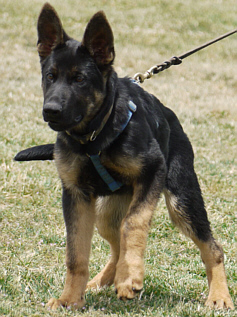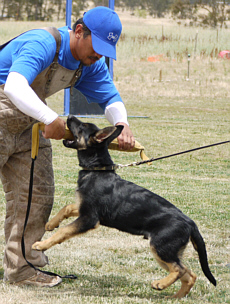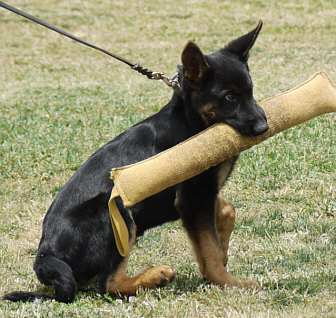 You can see more of Taz on this page Taz vom True Haus


5-25-2009
Texas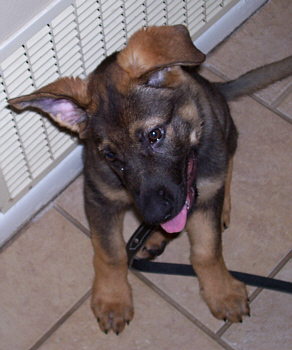 Hello Guys!

I have meant to email you guys. He is doing really well. It's taken about a week for him to become accustomed to things. At first he was pretty tired and somewhat lethargic. Now he's bounding around and being a little fur ball of energy! He weighs 23.5 lbs last I checked (that was Sunday).
He is crate training incredible well. He is actually the best puppy I've had as far as crate training. He has not messed once in the crate or in the house since I've had him. He runs for the door and starts yipping when he needs out. Truly unbelievable for a 10 week old puppy!!
He has crazy ball drive. I have a ball on a stick and he loves the game. His reflexes are improving rapidly. I'm also working him on a puppy tug and he's developing a nice full grip. At first he was mouthing it a bit so I just kept him on the leash and enticed him with the tug and then he'd dig into it once he could reach it.
I've also began training the sit (motivational only) and he is already responding to the command. He knows he'll get his cut of ribeye soon as his butt hits the floor!
This is an incredible dog and what a beauty! You've done a great job in breeding!
Warmly,
Labron

11-5-2009 update
Hello guys,
Just wanted to drop a note to update you on Jabari. He is doing very well, weighs 84lbs. He's an incredible strong dog. He very much dislikes the hot summer days here in south Texas so he's enjoying the much cooler weather we've been having recently. I will get pictures to you of him at work, he's pretty awesome. Bite work is by far his favorite thing. He's good with obedience but he loves bite work! As he's getting older and the weather is cooler his endurance has definitely increased. Again, he's just a great dog and we sure do like the result of all the hard work you've put into your breeding program.
Warmly,
Labron Allen, ACN

10-15-2010
North San Juan, Ca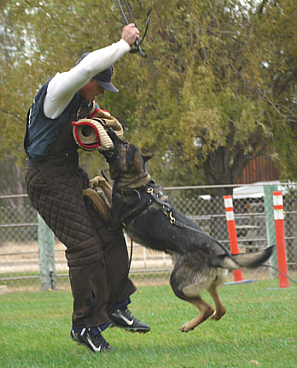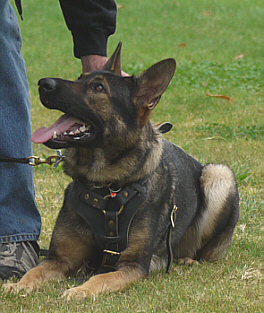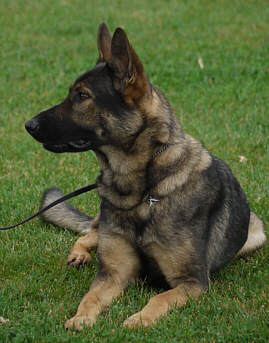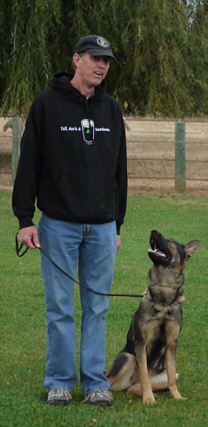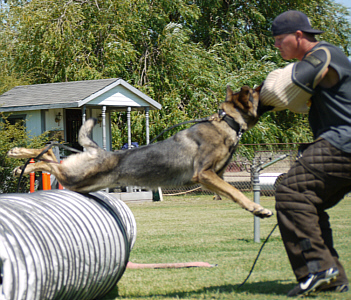 Thank You Jim & Cindy Reed and everybody else @ "Team TrueHaus"
And a extra Thank You to retired Sgt.Dan Cross of the Sierra County Sheriff's Office.
Zara being my second K9,I looked high & low for a highly trainable,reliable and a sound- mind partner with the drive I was looking for. Dan Cross told me about Jim & Cindy and their breeding program.Once I visited True Haus and met with Jim & Cindy and the dogs I knew they were just what I was searching for.
I'am fortunate to live some what close to True Haus and have been able to have Jim & Cindy's help in training Zara in handler protection and obedience work.Thank You again Cindy for all your help.

Lance Baldwin

5-7-2011 Lance and Zara earnd their FO title. Nice JOB!











6-21-2009
St. Joseph, Mo. 64505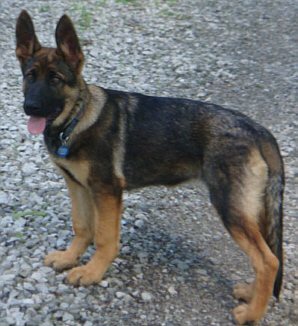 We took her to her first club meeting today. She did her first tracking training and showed great promise. Everyone was very impressed with all her great qualities. With much consideration, she had her first meeting with other dogs and did very well. We have a friend with a very well trained bicolor working line GSD and he was very good with her. She is beginning to know here, sit, and platz. Finally have some pictures to send. We are having so much fun.

Thanks Deanna & Jim.

Cindy, here is an update on Bria. She is tracking eagerly, had some bite work at the club. Very smart and funny. She loves water and has a great time with the grandkids in the wading pool. She has really changed and thought you would like to see her. Deanna



3-13-11

Cindy and Jim, Bria's and our time with you was priceless. After working with several highly qualified trainers, reading many current and renowned books and DVDs our time with you was the highlight of all these experiences. Bria learned a great deal and so did I. We so appreciate your knowledge and patience with us. She is a different dog now. So much more fun and easy to handle. The DVDs you gave us of our training are wonderful and very helpful. Even without your presence, I feel your continued help daily and hopefully will be able to continue what you have started. We had a great time and we can definitely tell Bria loved it too. Thank-you so much.
Always Jim and Deanna (wish we could see ya again)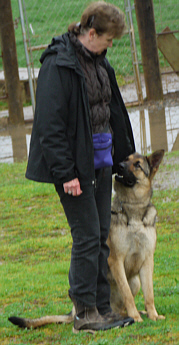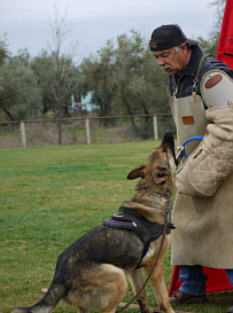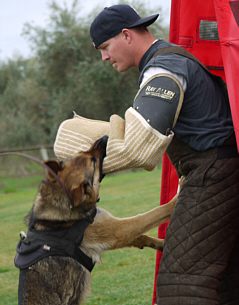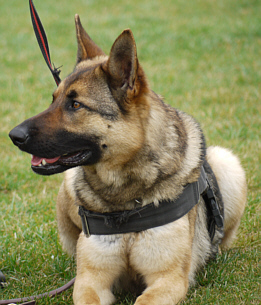 6-21-2009
Folsom, Ca.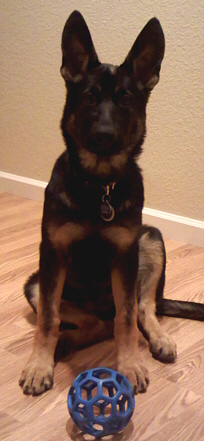 Jim & Cindy

Hello there you guys, I just wanted to give you an update on how Riley is doing with us. We have had our ups and downs ofcourse. Riley is a very smart dog I think and she picks up on the things that I do and don't want her to do while training her. I have had her in puppy training classes for about 4 weeks now aside from what I have been doing with her at my house. Riley "heels" pretty good, plays alot with us and her chew toys we have been fortunate that we had old carpets when she was this young because we were going to replace them anyways to wood floors and she is doing fantastic with being potty trained. I have already seen her become protective over me twice, both were no big deal but she was growling and barking, hehe I had never seen her do that to anyone but these 3 guys all stopped when she jumped up and started barking and kept a growl up and going almost the hole time until I was able to get her to calm enough for them to pet her. Riley seems to be growing very well and fast and has been doing very good with other dogs and people since getting her shots. I have gotten in contact with some people and will soon start Schutzen training and Sent training her. I have kinda gotten a late start in that area of her training I have just been busy. Riley loves the water more than I thought she would, we have brought her to a lake twice now and she has no problem getting in that water and swimming out to me or trying to save me when she thinks I am in trouble. She is 4 months old now and has no medical problems that I know of. Riley has had all her shots accept Rabies and will soon get it. She is, as of today 42lbs. I remember when we got her she was 11lbs, she is going to be so big I love it. Any ways I hope you like that pictures and I'll keep you updated.

Thanks
Jeff Ingersoll













7-4-2009
Folsom, Ca.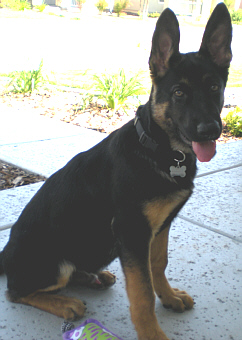 7-25-2009
Bristoe, Va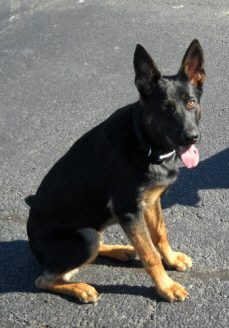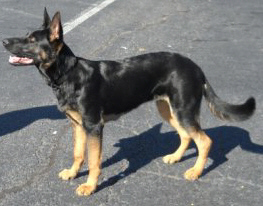 ---
---
HOME
FOR MORE INFORMATION on any of our german shepherd dogs:
530-534-5678
James Reed