these are the DDR import pups
From: Debbie
To: Jim & Cindy
Date: 5-8-02
Brian & Marry pup
Oregon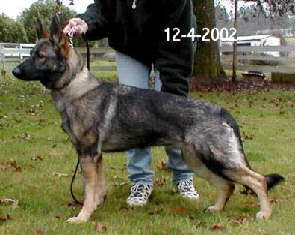 How's things in Oroville? All is fine here. Fee is wonderful as ever. I sure wish I could get some good pictures of her though!! Here's the best I've gotten lately. I finally went to a friends house instead of using the timer and trying to do it myself.
She is still doing great in training. Last Sunday was amazing. We went to a different tracking field and when we got there the grass was knee height. I figured that would be a little much for her but gave it a try anyway. Laid a track and even added one turn towards the end. SHE DID IT!!! I was so surprised. She loved playing in the tall grass also.
She still is impressing us with her drive. As soon as we get near a blind, she's headed over there and barks. Absolutley never wants to stop chasing the rag. I'm a little concerned at how hard she hits the end of the leash.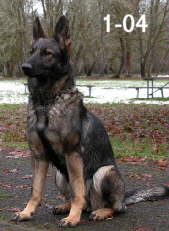 She'll hit so hard she flips herself over and just jumps up and goes again, never missing a beat.
The kinda comments I get are "I certainly hope you are gonna do something with this dog" "she has as much drive as she can possibly have at her age" "you really have a nice dog".
We really are having lots of fun. I'm finding that I am taking all my Sundays off work to go train. Also plan on attending as many seminars and trials as I can.
I'm planning on going to a two day seminar up around Portland the end of the month. An SV judge named Raino Fluegge is the instructor. It's going to cover Schutzhund obedience and protection.
Well, hope all is great with you guys. Talk to you later,
Deb
email Deb
update
Hi !!
Hope all is well you.
Well baby Fee is already 11 mos old!! I can't believe how fast time goes. She is doing well in training and is so beautiful. I get so many compliments on her. A few people are a bit intimidated by her. She is very alert and secure in her actions and I think the darker color is what makes her look intimidating.
I've attached a picture taken today after tracking. She LOVES to track and we've been having lots of fun. We've been pretty consistant with tracking 2-3 times a week and train on Sundays and sometimes Wednesdays with the group and then short sessions on our own. When we get up early and I open the kennel door she just jumps right in the pick-up into her vari-kennel and waits for me to catch up and close the door.
Talk to you later,
Debbie


From: Jeff
Date: 5-25-02
Brian & Marry pup
West Virginia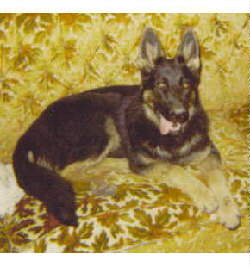 To Jim and Cindy Reed:
I just wanted to let you know how much we appreciate Trinka, the Female DDR German Shepherd you sold us.We have been so impressed with the intelligence of Trinka not to mention how she is showing great ball drive and so protective of our house and yard and she also is very affectionate and playful and has bonded so well with our four children.I had already bought 2 other DDR pups and had no plans to buy a 3rd puppy anytime soon, you contacted me and told me about a litter in Germany you were going to import in early December 2001.Well like I say I had no plans to buy a 3rd DDR pup so soon,but I looked at your web page and read about the pedigree of the pup and after sending a few e-mails to you, also I cannot forget the price you quoted was very reasonable.I could not pass up such an offer.
I was also impressed with the way you kept us so informed on the upcoming arrival of the pup and you did not take a year to get the papers to me from Germany.
We not only feel that we were fortunate enough to purchase a wonderful DDR German Shepherd,but we are so pleased with being able to consult with you about various questions pertaining to owning and raising this wonderful breed of dog.For good quality German Shepherds at a reasonable and just price,and just genuinely nice honest people to help and guide you along the way.
True Haus Kennels is the way to go.
The Morlan family.
email Jeff


Date: 3-18-02
Brian & Marry pup
Oroville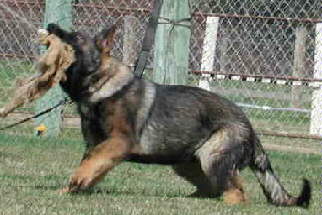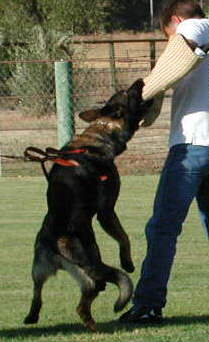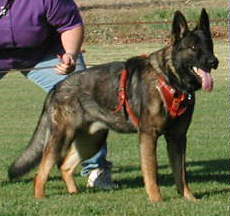 this is a young import dog







From: Nona
Date: 8-30-02
Czech bloodlines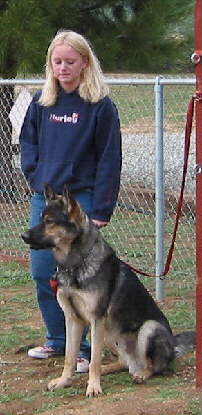 Hi Jim,
What a wonderful dog we have!
Patrick keeps repeating what a nice dog we have! He has given Courtney two complimentary lessons---Courtney really enjoys the lessons--and we are planning on continuing the lessons. Bret seems to have fun during the lessons too---although I am sure he is surprised by Courtneys' new approach to commands/corrections!


Thank you for sending Bret's papers...we are going to register him with AKC.


Courtney is working on a "thank you" and "update on Bret" letter to Cindy and you...


I am so pleased we found Truehaus....the honesty/integrity/helpfulness you have shown is so appreciated..and reassuring ...as you know, please add us to your list of "satisfied customers" for references anytime!
Nona


update
12-25-2002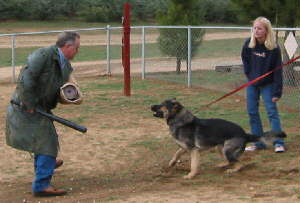 Dear Jim,
HAPPY HOLIDAYS !
Time is flying by so quickly...I can hardly believe Brit has actually been a part of our lives for only several months! Brit is a truely wonderful dog and (I will embarrass my daughter here) adorable! Brit is a very lovable dog and has joined our family of horses, cats and birds without a problem! And he loves the ball!
One night Brit alerted us to prowlers in our yard who quickly left! We have been very busy this past year but Brit enjoys our travels...he is a super traveler! We are continuing our lessons with Patrick (he is a very nice person and knowledgable!) and continue to learn alot! I am very happy with the relationship that Brit and Courtney have developed...They are BEST FRIENDS and we definately feel more secure with Brit alongside Courtney! I am more than pleased with this dog, Jim, he is a part of our family ....Brit is just the dog we were looking for! Enclosed are some pictures of Courtney, Brit and Patrick from last week end..... Happy Holidays to your wife and family!
Nona



these are Stella's pups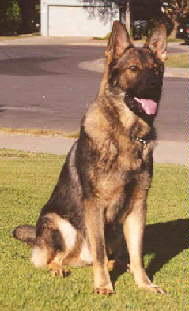 3-15-01
Jake & Stella pup
Alex now at 17 months of age is living in Utah on a ranch.















From: Nancy
Date: 3-18-00
Jake & Stella pup
Las Angles, Ca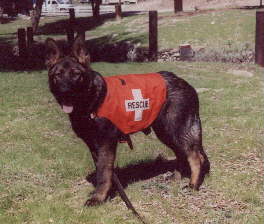 Dear Cindy and Jim,
Thought you would like to see pictures of Bowdrie, at a recent Los Angeles Sheriff search dog training. He did really well in the puppy class. He has a lot of play drive , his reward is the tug. Also at the training the sheriff horse patrol was training and they shot off fire crackers, the noise did not scare him at all. As you know my last search dog had a lot of medical problems. Bowdrie is really a sturdy dog with real strong muscular legs. He is very smart and learning quickly.
Thanks again for everything.
Nancy
9-12-00 Update
Bowdrie is doing great. He is a very intelligent and kind dog. Yesterday we went to a Sheriff search dog training in Camarillo. He did the obedience very good, expecially the drop on recall. Once a month we go to Bakersfield to train with CASSDA for disaster dog training. His bark alert is coming real well. He does 8 barks then gets a piece of meat. We didn't go to Montana this summer, but Bowdrie likes to swim in our pool at the house and knows where the steps are. For an update on Bowdrie CLICK HERE


Jake & Stella pup
Sacrament, Ca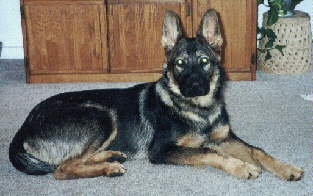 these are Addie's pups

From: Kathryn Weiss
To: Jim & Cindy
Date: 6-15-02
Kosta & Addie pup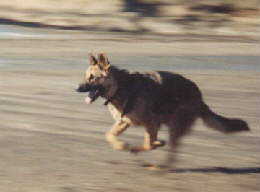 Dear Jim Reed
Thank you so much for your great breeding program and for Jackson in particular. Jackson is 3 this month and is everything we could ask for as a great addition to our family. We think he's about the smartest guy ever and he is a constant source of fun for us. Our vet in Chico often remarks on Jack's great temperment.
" Handsome is as Handsome does" and Jackson both is and does.
Thanks again and we wish you continued success.
Sincerely
Kathryn & Ray Weiss
P.S. If Jackson has a fault, we haven't found it yet




From: Kristine
To: Jim & Cindy
Date: 1-18-00
Kosta & Addie pup
Virgina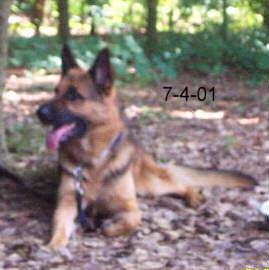 Hi Jim & Cindy!
I was in the process of looking for another GSD via internet when I came across True Haus Kennels. I was very much impressed with the way things were explained and very impressed with the fact they actually had allot of photos of their working dogs. I contacted Jim & Cindy and was surprised to find out that a litter was due in less than a month. Cindy wrote me almost every day to let me know how the expectant mom was doing. A few weeks later I saw the first photos taken of the litter and continued to receive pictures every week on how they were growing. Needless to say, on August 8th 1999, I became a proud mom as I picked my puppy up from the airport. I fell in love all over again ,seeing him in person rather than in his pictures. That was 7 months ago and Kausta is truly a great (and big!) companion. He has brought joy and happiness in our home and is very loving. Being 80.6# and not yet full grown, he is very gentle with our 3 year old daughter and we consider the both of them "Partners in Crime". One or the other tries to push our buttons and when caught in the act, they both look at us like they are perfect little angels. It's times like this when Kausta really shows was a clown he can be. He is a very quick learner as well. Training for the bathroom was done in a couple of days, and obedience-wise, he is truly remarkable! I had enrolled him in a puppy class back in October and was astonished when the instructor had wanted Kausta to sit and stay for 2 min. in a matter of a week. Needless to say he didn't stay in that class. I have enrolled him now in an advanced puppy class in which he learns things that a puppy should learn. He is at a sit-stay now, but only for about 45 seconds, which is good enough for now.He picks up on things real quick and is as clever as they come. I truly recommend a True Haus puppy, Jim & Cindy are always there when you need them and are willing at any time to answer questions you may have regarding their "babies". Please feel free to contact me with any questions or just to get more information on these "Truly" remarkable people. Email Kris James
Thank You so much Jim & Cindy for everything!
Kristine & Kausta
UPDATE
7-15-2006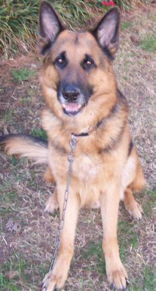 Hi Jim and cindy,

Kausta is one of Addie and Kosta's pups from 1999. Just wanted you to know he is doing wonderful! He is 7 years old now and in very good health. Still full of energy! I have attached a recent pic of him for you to see. He is starting to show some age with the white on the muzzle, but you wouldn't know it by the way he acts. Just wanted to let you know that he is well and still responds to the call of "puppy " , "puppy", "puppy". :)
Kris James










From: Rena
To: Jim & Cindy
Date: 11-1-99
Kosta & Addie pup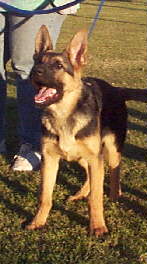 Of all of the Germans Shepherd dogs I have had Kimba is truly the best. She is bright, confident and willing to do anything I ask of her at only four months old.. She has an outstanding personality and lives peacefully with my cats. Cindy and Jim have been wonderful in teaching me how to train my puppy. They are always there to talk too and give you advice. We are welcome to visit any time. I waited a long time for the right puppy and could not have made a better choice. I am proud to have a True Haus puppy.
Rena







---
If you just can't get enough puppy pictures, you can see past litters at these links. Aslo CUSTOMER COMMENTS are listed on these pages

Esko & Reika
Esko & Terra Esko & Terra Nick & Terra
Tommy & Fiby Tommy & Fiby
Esko & Kalli Tommy & Kalli Tommy & Kalli
Esko & Cat Tommy & Cat Tommy & Cat Tommy & Cat Tommy & Cat
Tommy & Gitta Tommy & Gitta
Nick & OD Karo & OD
Tommy & Cassy
Tommy & Ziska Tommy & Ziska
Tommy & Biene Karo & Biene
Tommy & Exe Tommy & Exe Tommy & Exe Tommy & Exe
Tommy & Alexa
Tommy & Uny Tommy & Uny Tommy & Uny Jake & Uny Eddy & Uny
Kato & Esta
Frankie & Wusi also Kato & Wusi
Kato & Ira Kato & Ira
Tommy & Sankt Marko & Sankt Taggert & Sankt Kato & Sankt

---
HOME
FOR MORE INFORMATION on True Haus Kennel or any of our dogs: james@truehaus.com
If you are an AOL user you will need to type my email address
james@truehaus.com
and not use the link to email


530-534-5678 James Reed
 THANK YOU FOR VISITING