German Shepherd Dog
TRUE HAUS KENNELS
TOP QUALITY !

QUALITY ISN'T EXPENSIVE..... IT'S PRICELESS!!


since 1968





BREEDING AND TRAINING GERMAN SHEPHERD DOGS
---


This litter has been placed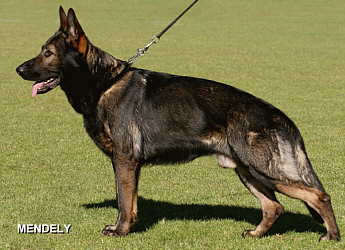 ESKO vom KLAMMECK

IPO3, FO, PD1, P1, P2S CD, CDX
Korklasse 1
IPO3 multiple times with very good scores
tracking 98, obedience 90, protection 94.
hips a normal, elbows normal
DM- normal GS-DM1484/57M-PI
Black Sable
SZ-Nr. 2201554
tattoo-Nr. S-D 6028
AKC # DN30099301
Date of birth 4/10/2007
height 26 inches, weight 95 pounds

Esko is eye-catching to say the very least. Stunning black sable color with a magnificent broad and substantial head with loads of character and wonderful expression. Strong bones with fluid movement. Good overall impression of firmness and strength. Absolutely rock solid temperament with great capacity to handle stress. Can go anywhere, anytime, day or night, totally self-confident and ready for anything. Shows an excellent relationship with his handler in obedience with quick and reliable reactions to the commands. Strong drive in protection demonstrating full, hard grips and intensive guarding in the bark and hold exercise. Launches and hits with full commitment on the long distance courage test. Calm and secure inside the home. We are very fortunate to be able to add him to our kennel.

For more pictures of Esko click here

ESKO'S PEDIGREE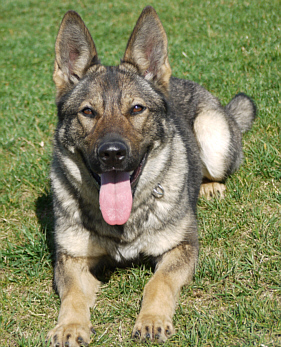 Gina vom Burgereck
FO, P1
AKC# DN36467701, SDA# 13-007-CA
Hips a normal, elbows normal
Date of birth: 4-21-2011
Sable
height 24 inches
weight 60 pounds

Gina has a beautiful head, correct ear set, with a very alert and expression.
Strong body type built for performance, very good angulation and excellent fluid movement. Desire to bond and perform for the handler is extraordinary. Steady temperament with remarkable capacity for learning. Continuously demonstrates well developed desire to please the handler and is highly responsive to the obedience commands. Secure and steady tracking behavior. Highly determined in protection, hits hard with full grips and serious guarding in the out phase. Transitions between aggression and prey drive easily demonstrating a flashy and powerful performance. Gina is always enthusiastic and enjoys working, able to concentrate and focus on task easily.

GINA'S PEDIGREE

To see more pictures of Gina click here

6-25-13 week two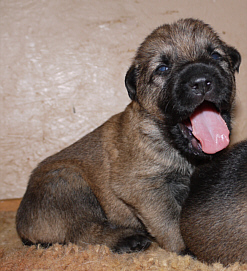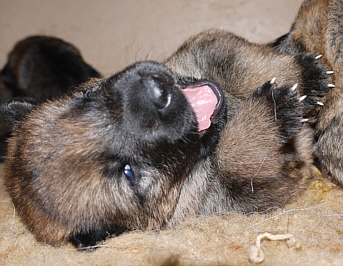 7-2-13 week three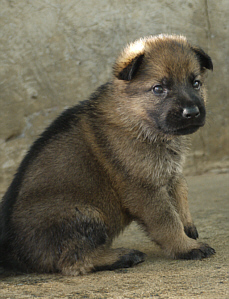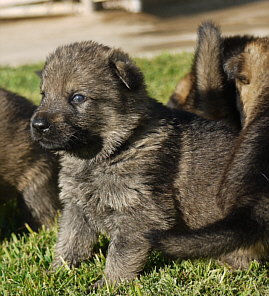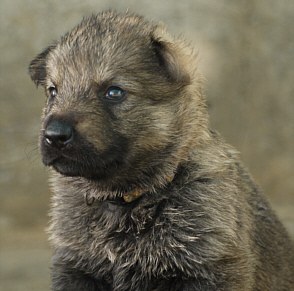 7-9-13 week four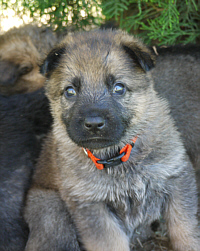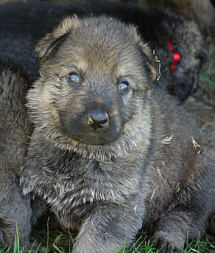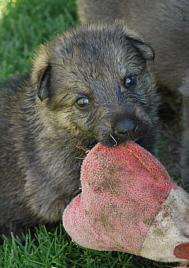 7-15-13 week five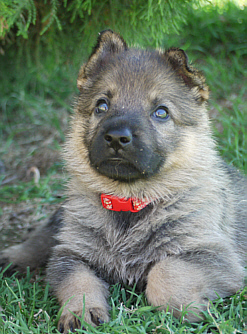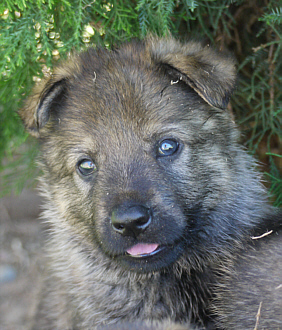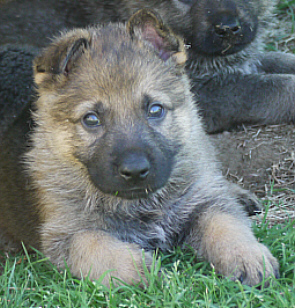 7-25-13 week six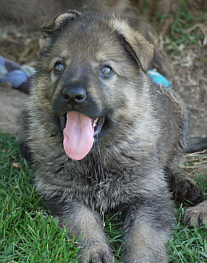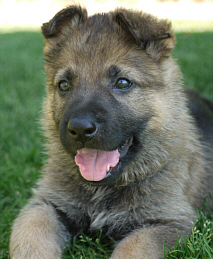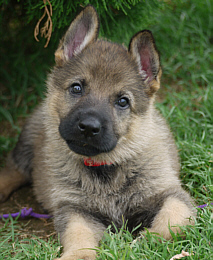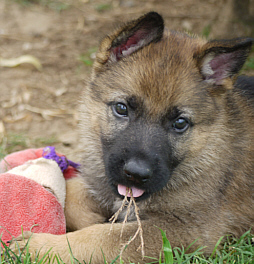 7-29-13 week seven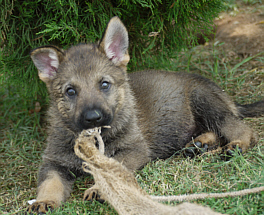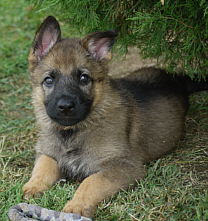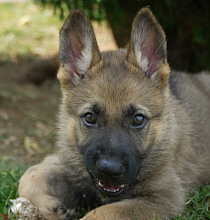 ---

9-10-13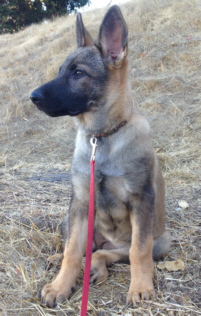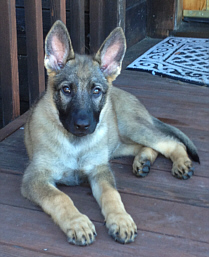 Hey Cindy!
Hope that all is well ; ) How did Gina do on her CGC and OB 1?
Zara is doing awesome and growing like a weed ; ) Here is a pic I took a few days ago.
She is gorgeous! I'm pretty sure that she poses when she sees me take a picture of her!
She has breezed through her basic puppy class - I think she's even a little bored its all so easy for her.
Our last class is tonight and next week we roll right into Family Obedience 1
which I hope will be a bit more challenging for her.
I think that she is Gina's first litter so thought you might be interested to get some info on this litter.
This puppy has absolute nerves of steel by the way!
Last Saturday night Joe and I took her out to dinner with us -
she was so well behaved then we did a short walk around downtown Petaluma --
it was loud and busy with cars, motorcycles and just lots of people, old people, young people,
guy in wheelchair, crying kids - she did not flinch or startle in any way!
She just marches forward with her ears up and ready for anything.
Take care, Tanya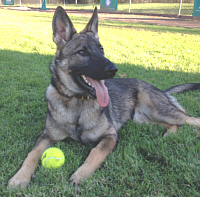 12-20-13
She is an absolute delight, so loving, fun and smart -- but strong as an ox and a bit stubborn at times -- like her owner
We weighed her about 3 weeks ago and she was a healthy 52 pounds and now about 19 inches at the shoulder.
Not sure how "tall" she will get but she has a very solid build (her nickname is Tank) and her colors are amazing!
It's been fun to watch them change - she is a true sable I think but the back of her ears are copper/red -- just beautiful.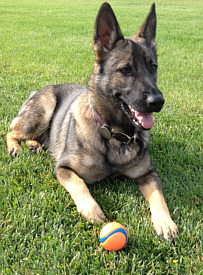 I still can't tell you how many people have stopped Joe and I to ask if she is a purebred GSD (not many people around here seem to be familiar with that color)
and comment that she is "the most gorgeous German Shepherd I have seen," I cannot walk her down the street or in town without someone stopping me to ask about her -- it's fun and a pain too - ha ha ha.
Clearly Esko and Gina are producing some nice looking puppies and I hope that the owners of the other ones from the litter might share some pics for the web site soon - I'd love to see them.
We have started more formal training with a woman by the name of Renate Rank - she is an IPO trainer and judge from Germany based here in Marin.
She has commented often that Zara is a very nice dog, a good representation of the working line and has excellent nerves.
However, I do have a bit of vacation time saved up so I plan to come up and see both of you in the New Year and perhaps we can be part of a weekend training session?
That would be a huge treat for us so I'll circle back with you again after Christmas.
Thanks again for such a lovely dog -- she is awesome!
Cheers,
Tanya (and Joe too)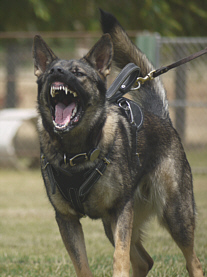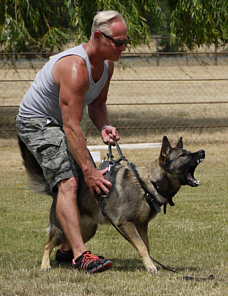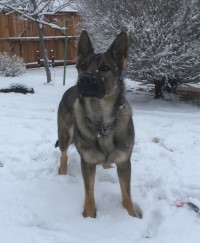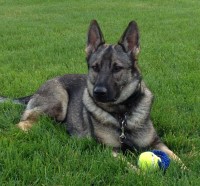 12-14-13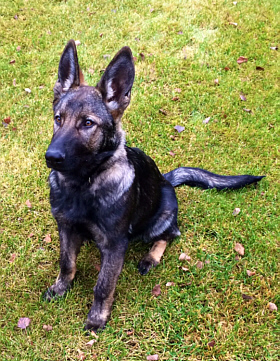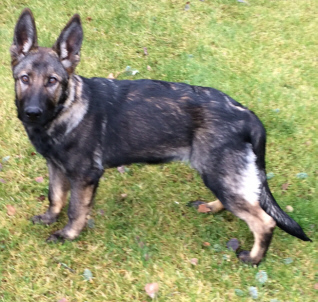 Tory lves in Alaska.


5-13-2014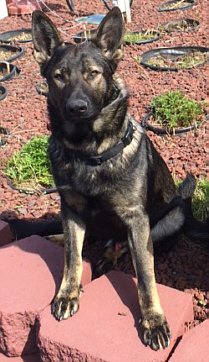 12-20-13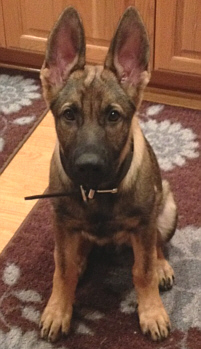 Cindy,
Boy has time flown by! I believe it's about time that I e-mail you and update you on my wonderful Gina pup from her very first litter.
Heinz is just shy of 7 months old and weighs around 65lbs. He is the absolute handsomest German Shepherd I have ever seen by far.
His ear set and sleek body lines are just gorgeous. He has a heart of gold and loves to be around me and the family.
Some things never change from when you first picked him for me. :) I honestly believe he is too smart, if that is even possible. His obedience work is going wonderfully and he knows all the basic commands...and more!
Now I am just working on adding distractions. Another one of his favorite things to do is to "search" on command.
I can hide a small treat, and I am talking small, randomly in the entire yard/house and he will find it every single time and getting quicker and quicker at that.
Even on extremely windy days his nose picks up the scent like you wouldn't believe.
He has been doing this since he was a young pup and just loves it to death.
I know that he would do extremely well in tracking work.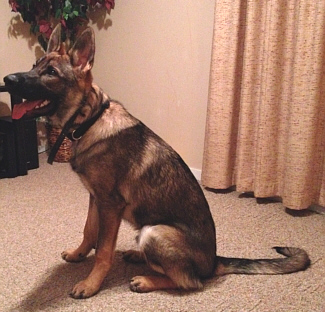 And boy does this guy have drive!
He absolutely loves to play tug and his accuracy on striking the tug is amazing.
His grip is strong and he tugs with enthusiasm and vigor.
We are perfecting the "out" and he is doing tremendously.
I honestly wish that I had the capability of training him in this field of work because he would surely excel...as I am still working on him being so mouthy. ;)
Also, Heinz loves to talk, and talk all the time he does!
He loves to whine and bark to tell me things.
. .which isn't always at the most opportune times...but we are working on it...lol.
He has to be the most vocal shepherd.
I have attached a couple of pictures for your enjoyment.
The first one is from the end of September 2013 when he was 3 months old
and the second one was taken a couple of days ago when he is 6 months old.
Enjoy!
Thank you for an amazing dog and for all that you have done for us.
Happy Holidays! :)
-Rachel



---
HOME
FOR MORE INFORMATION on any of our german shepherd dogs:
530-534-5678
James Reed