German Shepherd Dog
TRUE HAUS KENNELS
TOP QUALITY !

QUALITY ISN'T EXPENSIVE..... IT'S PRICELESS!!


since 1968





BREEDING AND TRAINING GERMAN SHEPHERD DOGS
---

Trigger and Kalli's litter
This litter has been placed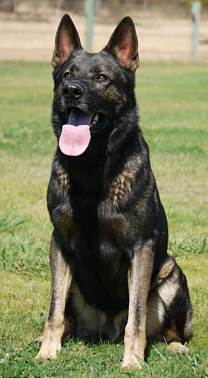 Thatchers Trigger of True Haus
CGC, FO, P1S
OFA Good
DM- carrier GS-DM2126/63M-NOPI-CAR
Red Sable
AKC# DN18749402
Born: June 30, 2007
height 26 inches
weight 94 pounds

Trigger was born here and has been raised and trained by his owner Clark Thatcher.
He is a powerful red sable exceptional in every way. The best of both worlds, he has the legendary look of the East German bloodlines along with the superior temperament and performance qualities of the West German working lines. Especially strong structure and awesome substance. Outstanding chest proportions, very good angulation and powerful movement. Massive bone strength with a magnificent head along with imposing expression. Flawless disposition with unparalled steady nature. Impossible to make unsure with a rock-solid steady nerve base. Pronounced play drive shown by high anticipation for the ball. Absolutely perfect with children and relaxed in the home environment. Transitions between active and passive behavior perfectly on command.
Ideal in every way.
Trigger is what we try to acheave with every one of our breedings.

You can find information on Trigger's sire Tommy on our home page here
You can find information on Exe, Trigger's dam on our pastdog page here

TRIGGER'S PEDIGREE


To see more pictures of Trigger click here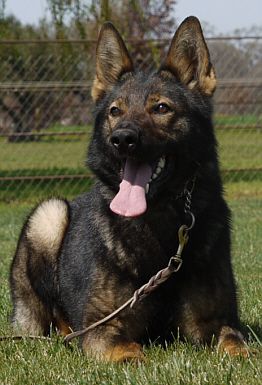 KALLI V. HILDERNISSE
SchH BH, CD, FO, P1, PD1, OB2
Black Sable
N.H.S.B. 2537735
AKC# DN24137701
Tattoo-Nr. e272
hips a normal, elbows normal
DM- normal GS-DM1637/60F-PI
Date of birth 3/12/2007
height 24 inches
weight 65 pounds

Kalli is a young female with lots of willingness to learn. She has a distinctively spirited attitude and is super self-confident. Combined with endless energy to play has made her a great pleasure to train. Always willing to work. Guidable, responsive with strong working drives. Great retrieving instincts, will always bring the ball back to keep the action going. Shows great guidability in obedience and is very attentive to the handler at all times. She puts all she has into what ever she is doing.Alert and attentive expression with strong ear position. Shows the absolute type we strive to achieve in all of our breedings.
KALLI'S PEDIGREE


To see more pictures of Kalli and videos of her working CLICK HERE


3-8-12 week four.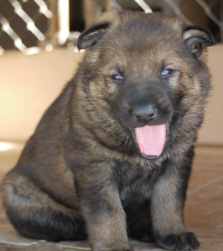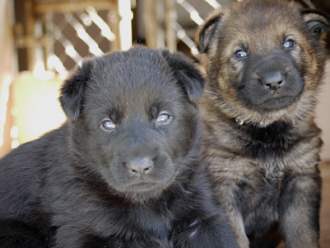 3-18-12 week five.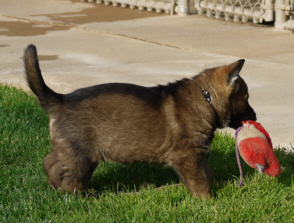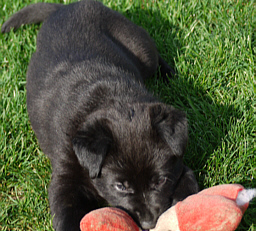 3-24-12 week six.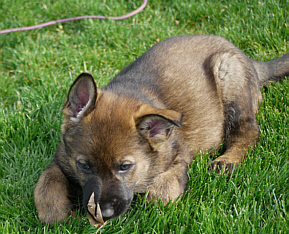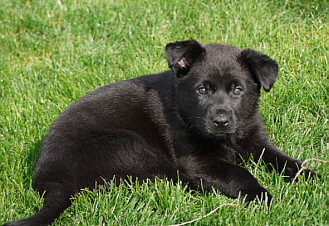 ---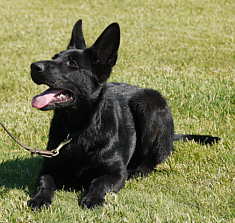 You can see more pictures of Bretta on this page Bretta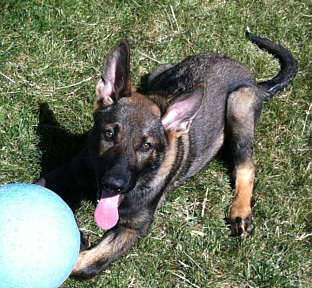 Hi Cindy,
Wanted to give you an update on us. Jack is doing great! He has doubled in size now 45lbs of boundless energy.
He has been going through all his check ups & is healthy.
We enrolled in weekly puppy one class & completed his final (6) class this last Sunday.
I saw the instructor giving a behavioral class & immediately signed up.
Her name is Jimi Dixon, & she previously used to pick out GS puppies at 8-12 weeks to go forward with the Santa Cruz Sheriffs K9 Training Department.
Jack has learned 10 commands & his loose leash walking has excelled.
I have been working hard on socializing Jack. He has met many people & does very well with children.
I volunteer on projects with the fire department & the battalion chief had me take & walk Jack through the largest station meeting the on duty crew.
I was able to show off Jack to one of our K9 officers & he offered to test Jack & see where Jack's interests are.
I enjoy taking Jack to Starbucks where he gets to observe & socialize with other people.
I am very happy. Jack is a great companion.
Thank you for bringing Jack & me together.
Heather
The picture is 14 weeks.


---
HOME
FOR MORE INFORMATION on any of our german shepherd dogs:
530-534-5678
James Reed