German Shepherd Dog
TRUE HAUS KENNELS
TOP QUALITY !

QUALITY ISN'T EXPENSIVE..... IT'S PRICELESS!!


since 1968





BREEDING AND TRAINING GERMAN SHEPHERD DOGS

This litter has been placed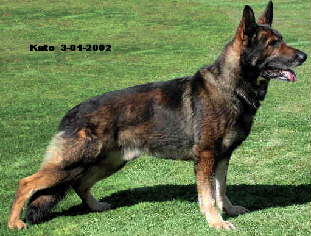 QUATTAN VENUSINA SOPKA
call name " KATO"
AKC #DL869602/01
Date of birth 2-22-1997
CD,OB1,IPO 3, SchH3, FH
attendant of
Czech Championship
in IPO in 2000
5VQ1/P 1st breeding class,
velmi dobry
HIP RATING 0/0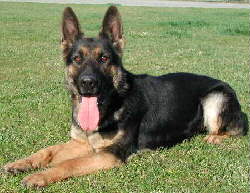 IRA vom TANNENBLUT
SchH1, AD
ZW-89, Sz Nr: 2041597
a-normal, black and red bi-color
WEST GERMAN WORKING bloodlines





two weeks old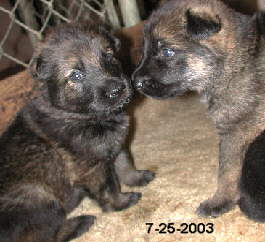 3 weeks old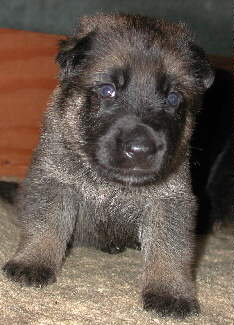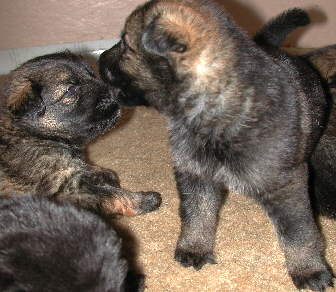 5 weeks old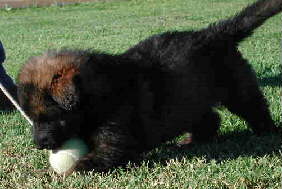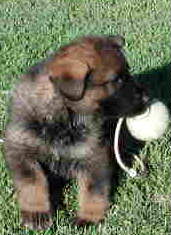 7 weeks old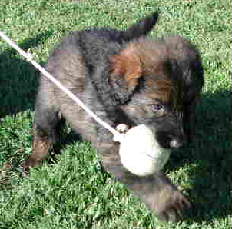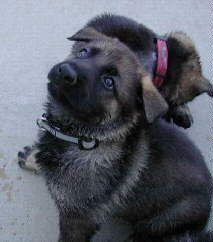 Update on some of Ira's pups
rom: Milton
To: Jim & Cindy
Date: 12-18-2003
Kato & Ira pup
California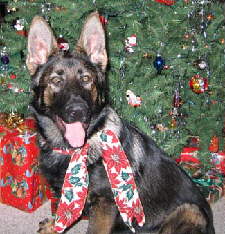 Hello James and Cindy,
I thought you might be interested in seeing your dog Xena Prinzessin Schroth (Brandy) born July 1, picture taken on Dec. 13 at 6 months. She weighed 44 lbs on November 4 and I am sure she is going to grow into those ears. She is everything I hoped for. Lots of fun, highly intelligent, full of energy, learns fast, but wants to be sure that I mean it. In the last week, she has decided that she is a guard dog. I have been taking her to dog school for two weeks but I had already done a reasonably good job with respect to the common commands. Interestingly, the trainer commented after the class that she was highly intelligent and had a regal way of walking/trotting as she lifts her front legs high. The trainer likes to use her when making demonstrations. Best regards,
Milt Schroth



Update on Xena 3-14-2004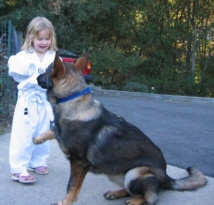 Hello Cindy,


You asked me to send you pictures of my "baby" and like any proud Dad, I got carried away, even if it is a dog. I know you and Jim must be very interested in genetics and therefore I tried to give you pictures that showed her body, head, and coloration. She seems to be becoming more red with time because of the undercoat, which shines red when the sun is out. She seems to be very large for a female and was 77 pounds at the vet today. I don't think I am feeding her too much. She also seems quite long, which the pictures may not show.

I am not an expert on temperament but I will try to give you her characteristics: She does not appear to be bothered by anything, loud noises, other dogs, thunder, going into stores,etc. She strikes me and the dog trainer as being highly intelligent. She learns extremely fast; I as well as the dog trainer noted that she tries hard to please. She is the favorite of the trainer who stated that she has the best temperament of any shepherd she has worked with. That does not mean she is not boisterous, mischievous, and full of fun but she performs beautifully during the classes. The trainer likes to use her as an example. She has a very distinctive gait lifting her paws high when trotting or walking fast. Aside from the above, she is extremely energetic and is running and jumping all of the time. She is a much better dog when she gets lots of exercise and in fact she needs it because of her high energy level.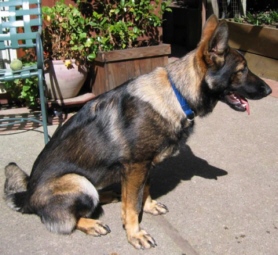 She is a big jumper and I have never had a dog that can jump so high from essentially a standing position. Her other two favorite things to do , like most shepherds, is to fetch balls and to sniff them out when they are in ivy etc. She has a great nose and can spell a hidden tennis ball from many feet away. It is fun to play hide and seek with her.
She may or may not have the attributes for being a schutzhund as I would not know. However, she is certainly a great family dog. That is why I sent you the pictures with the kids. She loves children but can play a bit rough for a two year old which is not surprising for a juvenile dog. I don't know what kind of guard dog she may be and I don't want her to get over protective as there are too many people around. A bite in our area would be costly. However, she is be big enough and will look fierce enough that nobody will enter my property anyway. She already raises a ruckus when somebody walks down our private road past our house. She likes playing with other dogs but gets a bit rough. She now has reached the stage that if a dog growls at her, she take great offense to that. Her only negative qualities is that she has systematically pruned my plants and drip systems not to mention chewing up sprayers, garage siding, and a few other things that I was too stupid to protect. obviously, she gets bored easy and I understand that she is using dog psychology on me to give her more attention. The bottom line of all the above is that if somebody should worry about the temperament of a dog from you because the parents have a strong "schutzhund" background, they need not worry. Intelligence and temperament are your critical qualities and I am sure the genetics of your dogs are the best for multiple purposes. It is all in the training. I hope the pictures and my analysis will be of interest to you.
Milt
If you would like to contact Milt you can email here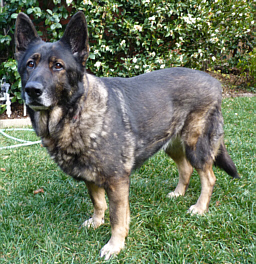 Update on Xena 1-12-2012
Hello Cindy,
I am sure you cannot remember us but we bought Brandy (Xena) from you in 2003. She now is 8.5 years. When we picked her up, you had two dog left, one that you had in the house and Brandy who was available because a pregnant couple had to renege on the purchase. The rest had been sold and were gone. You said Brandy was one of the largest of the litter and a cautious dog. Both traits were accurate as she is 90 lbs and trim. We wanted her as soon as we saw her. She has turned out to be by far the smartest and best dog we have had, although her puppy hood was a real experience. She is extremely manageable and has a huge vocabulary as she picks up on everything I say. For example, I can say something calmly to my wife in a low voice--"it is time for us to go to bed" and she immediately jumps up and heads to her igloo. Brandy (Xena) is still somewhat cautious depending on the situation, but not shy or even slightly timid. She has a dominating personality at least with other dogs who come near our premise.
She is a great family dog and loves children and our guests. I feel very lucky to have had such a magnificent dog that anticipates my actions almost before I know what I am going to do. She was not trained to be a guard dog as we have too many people and kids around and don't want to have any problems. She has enjoyed excellent health. We thank you and know you must take joy in having such a good business and making people very happy.
Regards, Milt Schroth


From: Kimmie
To: Jim & Cindy
Date: 1-18-2004
Kato & Ira pup
California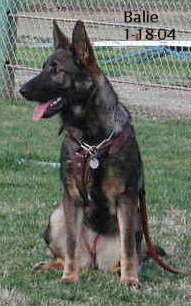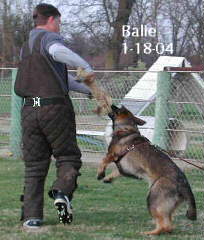 new pictures of Bailee 3-07-2004 below
Jim & Cindy,
Where do I start? Bailee has become everything my two-year old Fritz is not. She is my baby, already my protector, and my friend. She also at ten months works Mom quite nicely, which has forced me to start over and be a much different handler. My biggest challenge is to keep her from training me rather than the other way around.
As you both know Bailee has begun to prove herself as a strong contender in both bite work and tracking. I feel sorry for the guys who will be catching this powerhouse when she is an adult dog. She is quick to learn, which can be exhausting because she is so quick to challenge me and this keeps me trying to stay one step ahead. I will always be amazed how Jim can look at a bounding group of puppies and make the perfect match as he has with Bailee and I.
Both of your support in training and sculpting Bailee and I to a great working team will always be appreciated.
I am truly thankful to have "Team Truehaus" as my extended family.
Kim & Bailee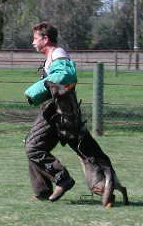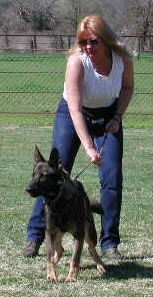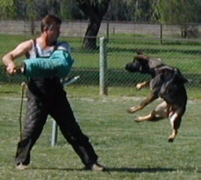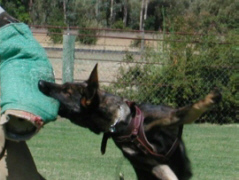 4-30-2205
Bailee earned her first leg for her CD title. She took first place with 188 1/2 points. Great job!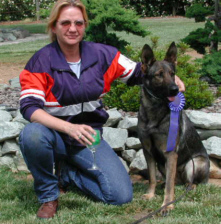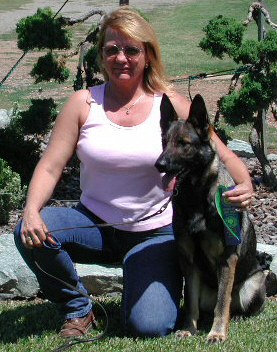 6-19-2005
Now she has finisned her CD title with yet another first place. Very nice job to Kimmie and Bailee.
9-11-2005 Bailee has now earned her SchH BH. Great job!
She now has her CGC title 3-5-2006

Congradulations to Shannon & Charlie Narron for purchasing this nice female

Nattie vom True Haus
Date of birth 7-1-2003
AKC # DN04864306
OFA GOOD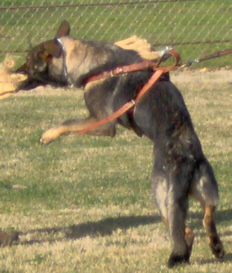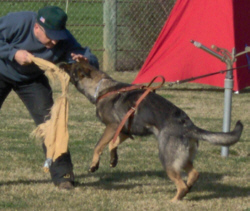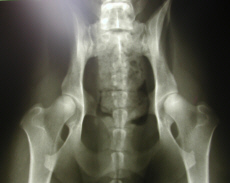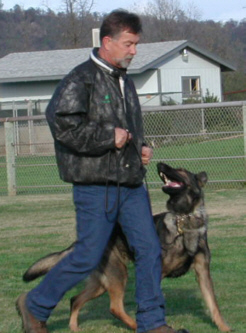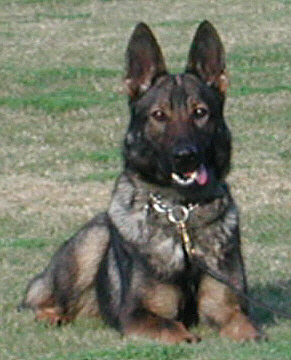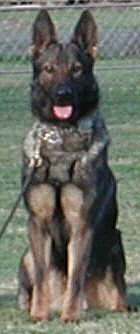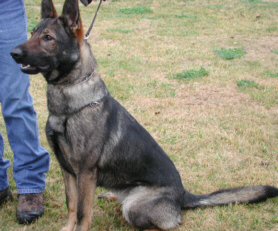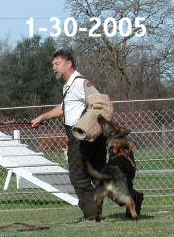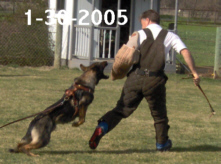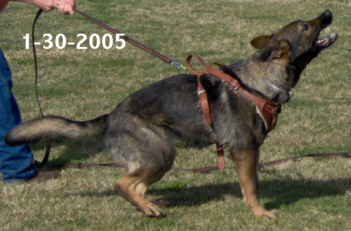 Nattie at play taken 1-28-2005
Nattie at play 2
These short videos will take from 2 to 5 minets to down load.

From: Paula
To: Jim & Cindy
Date: 1-19-2004
Kato & Ira pup
California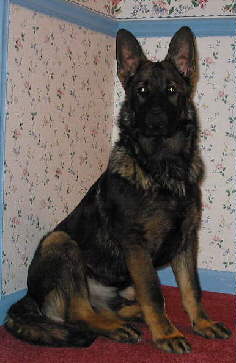 Update 6-12-2004
Cindy & Jim,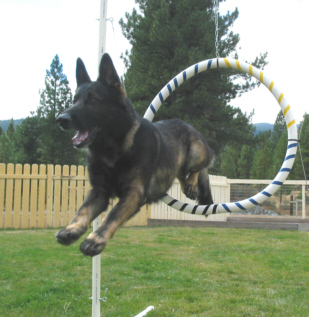 As Cruiser approaches his first birthday, it seems fitting to drop you a line along with some pictures.
We are very pleased with our dog. He is intelligent, good looking, self-assured, people friendly, very energetic, intense and he keeps us laughing!
We think we made an excellent decision to acquire our dog from you. We first learned of Truehaus by visiting your website which resulted in our visit to your kennel. We were impressed with your facilities, training and animals. Your puppy program which includes socialization, analysis & evaluation of the pups, proper health care and hands-on management prepares the pups for a successful future.
Your interest and follow-up "after the sale" is refreshing and appreciated. We have and will continue to refer friends and strangers who are looking for high quality German Shepherds to Truehaus.
Regards,
Jim and Paula Erle
9-25-2007
Cruiser is now 4 years old.







---
HOME
FOR MORE INFORMATION on any of our german shepherd dogs:
530-534-5678
James Reed