German Shepherd Dog
TRUE HAUS KENNELS
TOP QUALITY !

QUALITY ISN'T EXPENSIVE..... IT'S PRICELESS!!


since 1968





BREEDING AND TRAINING GERMAN SHEPHERD DOGS
---


This litter has been placed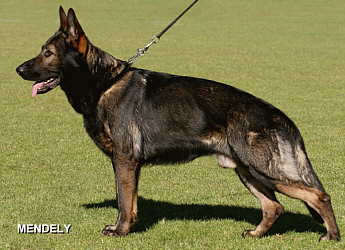 ESKO vom KLAMMECK

IPO3, FO, PD1, P1, P2S CD, CDX
Korklasse 1
IPO3 multiple times with very good scores
tracking 98, obedience 90, protection 94.
hips a normal, elbows normal
DM- normal GS-DM1484/57M-PI
Black Sable
SZ-Nr. 2201554
tattoo-Nr. S-D 6028
AKC # DN30099301
Date of birth 4/10/2007
height 26 inches, weight 95 pounds

Esko is eye-catching to say the very least. Stunning black sable color with a magnificent broad and substantial head with loads of character and wonderful expression. Strong bones with fluid movement. Good overall impression of firmness and strength. Absolutely rock solid temperament with great capacity to handle stress. Can go anywhere, anytime, day or night, totally self-confident and ready for anything. Shows an excellent relationship with his handler in obedience with quick and reliable reactions to the commands. Strong drive in protection demonstrating full, hard grips and intensive guarding in the bark and hold exercise. Launches and hits with full commitment on the long distance courage test. Calm and secure inside the home. We are very fortunate to be able to add him to our kennel.

For more pictures of Esko click here

ESKO'S PEDIGREE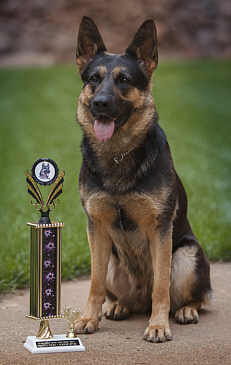 REVA vom HAUS SALZTALBLICK

BH, IPO1, AD, FO, PA, P1(H), P1S, OB1, TR1, CGC, CD
Bi-Color
AKC#
SZ#2246863
hips a normal, elbows normal
DM- normal GS-DM1900/28/F-NOPI
Date of birth 1/1/2010
height 24 inches
weight 70 pounds



Reva is a large, bi-color female with broad powerful head haveing a noble and expressive look. Excellent top and underline with a well developed chest. Muscular and strong body type built for performance. High level of trainability with outstanding work ethic. She is enthusiastic and enjoys working and playing. Reva earned her IPO1 at the young age of 19 months of age with very nice scores of 90-91-95.


REVA'S PEDIGREE

To see more pictures of Reva click here


11-3-13 week Two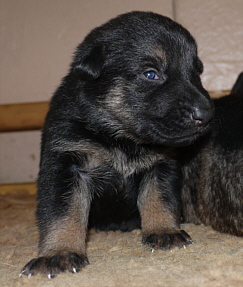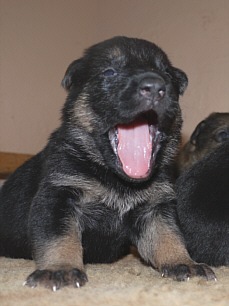 11-10-13 week Three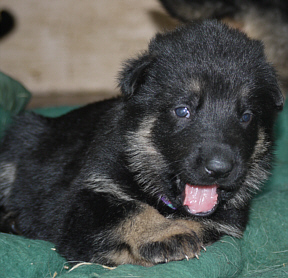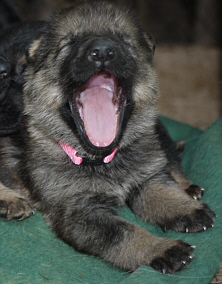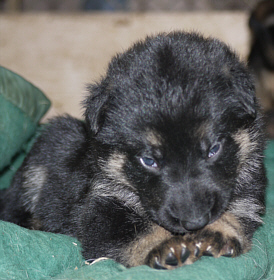 11-19-13 week Four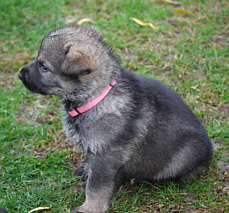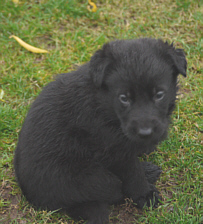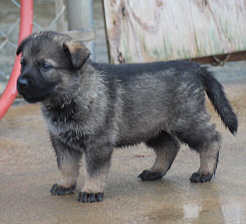 11-26-13 week Five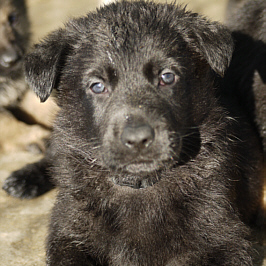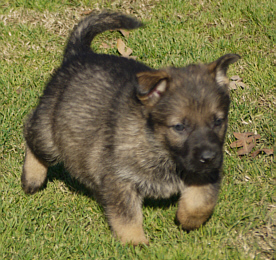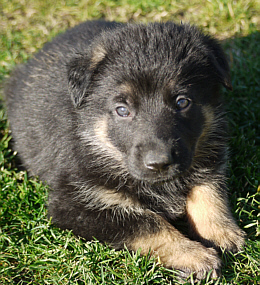 12-4-13 week six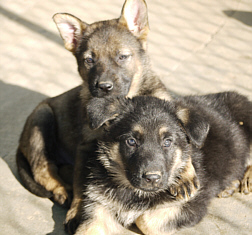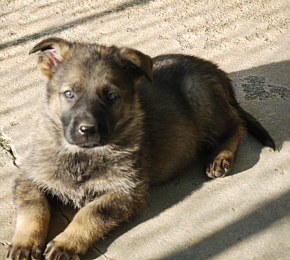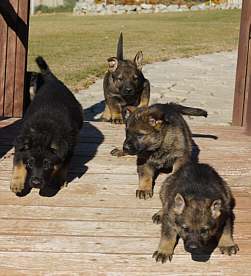 ---

5-14-14
Alaska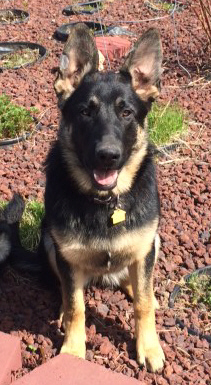 5-25-14
Ca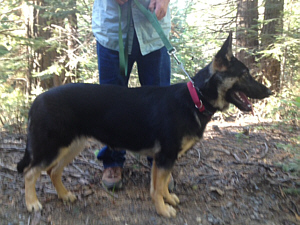 Thank you! I LOVE her! She is an outstanding dog.
Thank you so much for breeding her. I think that Esko and Reva make a very good cross.
She is smart, tough, beautiful and has a great drive instinct while not being nervous at all.
She is calm yet has energy. Excellent, excellent temperament.
Thank you both!
I couldn't be happier with her.
Nancy

P. S. Jay feels the same way. She knows all her basic obedience with the exception of heel work.
We are in the process of that now. She is very good at retrieving, finding a scented hidden toy,
interacting with students at school and is confident in strange places.
I have her in a shopping center right now while I'm typing this e-mail. She takes everything in stride.


---
HOME
FOR MORE INFORMATION on any of our german shepherd dogs:
530-534-5678
James Reed