German Shepherd Dog
TRUE HAUS KENNELS
TOP QUALITY !

QUALITY ISN'T EXPENSIVE..... IT'S PRICELESS!!


since 1968





BREEDING AND TRAINING GERMAN SHEPHERD DOGS
" Good things come to those who wait "

This litter has been placed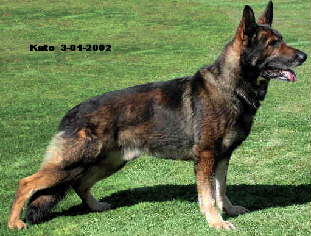 QUATTAN VENUSINA SOPKA
call name "KATO"
AKC #DL869602/01
Date of birth 2-22-1997
CD, CDX, OB1, IPO 3, SchH3, FH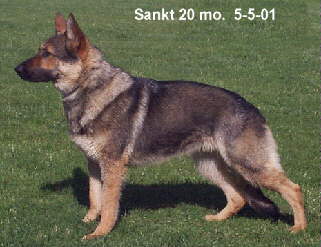 Sankt vom True Haus, CGC, SchH BH, CD, SchH OB1
call name "Santa"
AKC #DL798487/08
OFA GOOD
Date of birth 8-7-1999
DDR Working loodlines
Puppies born Easter day
two weeks old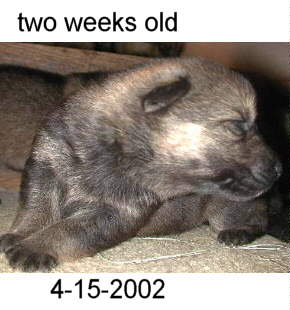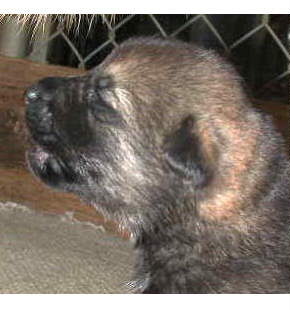 three weeks old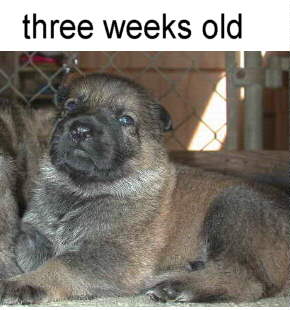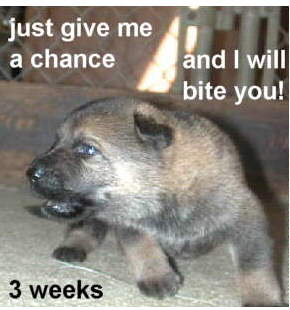 four weeks old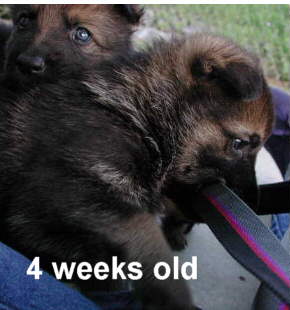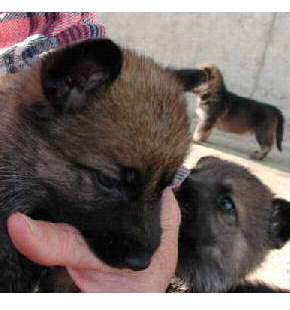 seven weeks old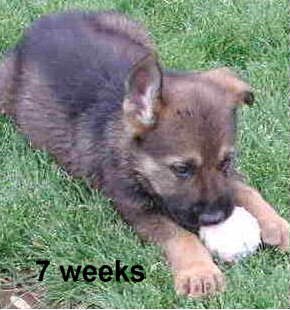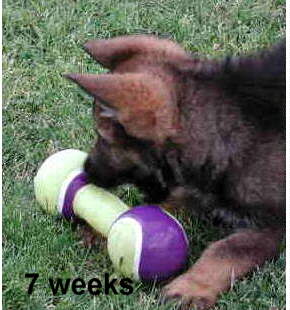 ---
Date:6-15-2003
Kato & Sankt pup
Bay area, Calif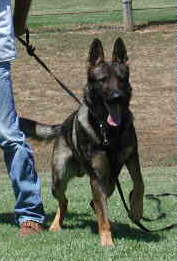 pictures taken 6-15-2003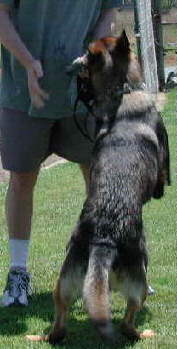 Hi James,
My name is Jennifer. My mom and I came to your house to pick out our puppy from you and Cindy almost exactly 1 year ago. I was checking out your site today and was astonished to see how beautiful all your dogs are. I thought Jax must have gotten all the good looks of the litter but I guess you also breed for beauty! Everywhere we take him, people come out of the woodwork to compliment us on what a well mannered and beautiful dog we have. As you may remember, I had never had a dog before and wasn't quite sure what to do with Jax sometimes but now he is truly one of my kids. He is an irreplaceable member of our family. My kids, husband and I all love him so much.
On a family weekend getaway, we had left Jax with my mother while we went out of town. I was almost attacked by a stranger but thankfully someone must have been watching over me and I got out of the situation without harm. Since then, we have never left the house without Jax. He is a fierce protector of all our family members and we all feel safer when he is near us. If my husband even pretends to be pushing me around, Jax clobbers him!
When we get some digital pictures, I will forward them to you. Just wanted to take a quick minute to say thank you for breeding such wonderful companions. Many Thanks,
Jennifer & Family

Date:8-3-2002
Kato & Sankt pup
Kansan City, Mi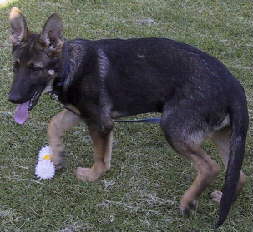 Hi Cindy and James,
Here are a few pics of Jaxon I took last Fri. It seems he gets darker every day. Sometimes at night you cant see him unless he is running.
I just want to tell you how happy I have been with Jax. Sure we have had a few puppy moments i.e. shoes ripped up and a few messes but nothing major. :) Since the first day I took Jax home we have had a very close bond that gets better every day.
Jax's Play drive is incredible. His favorite games are tug of war and hide and seek. Jax has a great sense of duty and he is only a puppy. I have my 77 year old uncle living with me and Jax is always careful around him. I also have nephews and nieces ranging in ages 13 months to 16 years and Jaxon is great with all of them. Jax has fit into his pack very well and he always keeps an eye on us even when he is in a heated match of tug of war.
I have been taking Jax to the local ScHUTZHUND club and we have a great time. Jaxon gets really fired up when he sees another dog doing protection work. It is almost like he feels left out but he will just have to wait until he is older. I have been doing light tracking and treat training and he loves it. Jax already sits and platz very well. Jaxon runs at 110% at everything he does whether playing or working. I just cant put into an email what a great dog he is. I am going to attempt to get his ScHUTZHUND titles and I know that the only reason he wouldn't get his III is because I failed him.
I also wanted to say thank you to James and Cindy. Due to their love of the breed and everything that goes into a great GSD there are 9 other really lucky people out there that have brothers and sister of Jax. I really like the fact they care more about their dogs and the puppies then the "business" of breeding. From the first time I contacted them I knew they were the breeder of choice. I ran into allot of dog snobs before contacting the Reeds and was relieved at the whole process of picking Jax. (Actually he picked me). Once again I would like to say thank you to the Reeds
Sincerely,
Steve Sanders

Date:3-5-2003
Kato & Sankt pup
Oregon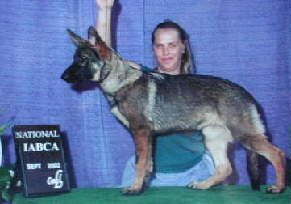 We were also able to get a NATIONAL title on Madchen with a SG-1
Dear Cindy and Jim
Here is my 11 months with my little girl Mad"chen" as a lot of you know my husband Mike and I were wanting a German Shepherd pup with DDR lines so I did some research for about a year and came across True Haus Kennels followed a couple of litter and decided True Haus was our Kennel to purchase from. So we watched for Taggart's and Xina's pups and we got my black and silver male. But to my surprise he was gong to be Mike's so we went back to our motel and had a talk. Cindy and Jim had just had anothrer litter from Sankt and Kato. So we purchased my little girl mad"chen" she was to little to bring home that trip so I had to wait.
Finly she was ready and so was I. We went down to get her and she was way more than I had exspected so was awsome a little spitfire. She was about five months old and she decided to eat some rock she had a few that would not pass through. So took her to doc Joe and he was able to milk them through thank god. Mad"chen" started her Breed Ring shows at five months old in the IABCA Shows she walked away with three Firsts and again one month later the same thing. So by the time she was six months she had a National Champion title and an International Champion Title. By the time she was nine months old she has gotten two more National Champion Titles and one more International champion Title. She has one more National and two International Titles and she will be finised in the puppy classes for the IABCAand we will have those by August of 03.
She starts her AKC Shows in March of this year she should go far. She is a deep red sable with silver high lights. I have never realy told Cindy and Jim how Thankfull I am for the DDR lines they have brouhgt to the United States. They are a blessing to me, so Thank You So Much and while I am thanking those who have helped me I must Thank my Husband Mikel, for Handling Mad"chen" in the Breed RING and doing an awsome job Thank You.
Will send an up date as soon as I get another chance
Thersa Dugas
e-mail address: THE DUGAS'S
Vist their web page at Dugas Kennel

Date:7-31-2002
Kato & Sankt pup
Magalia,Ca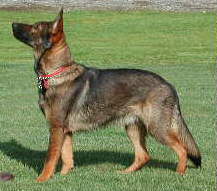 This Is Onix
Dear Jim and Cindy
Thank you so much for all the help with Onyx. She is very driven, She works hard Plays hard, and is always on gaurd. Even while shes sleeping her ears are up and tuned in. She is sweet and loving but i wouldnt want to be on the other side of our fence, This dog is aware of everything that is going on. Last sunday we started her on the dog walk and she did great. I would recommend A True Haus Kennels Dog to anyone that is worthy of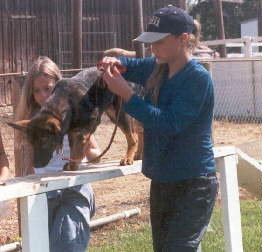 one of these perfect dogs that have come from years of breeding just the right dogs. I feel as though I got the cream of this breed.
Thank you so much Danna and Onyx

Date:8-31-2002
Kato & Sankt pup
Oroville,Ca
This is Ranger. These pictures were taken at dog class 8-11-02.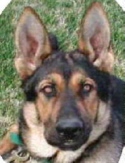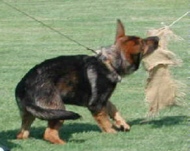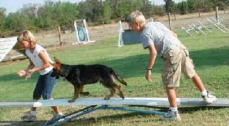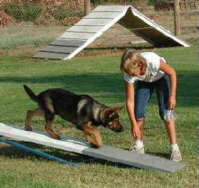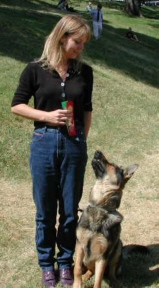 5-22-2004Ranger has now now earned his CD

Date; 1-05-2003
Kato & Sankt pup
Valentine, Nebraska
This is Hasso, now about 8 months old.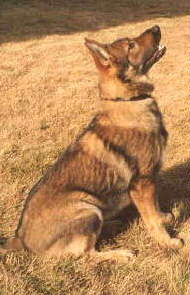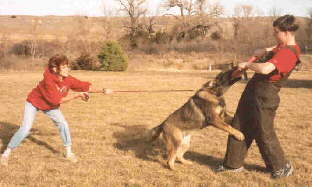 Date:2-15-2003
Kato & Sankt pup
Folsom, Ca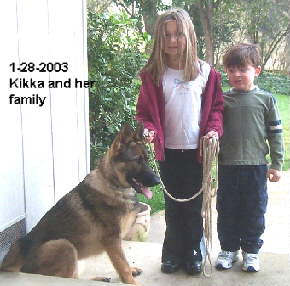 Our story of acquiring our German Shepherd from James and Cindi may start out a little different than most others. We had been talking about getting a medium to large size dog for a year or so due to a move to a new home with land and the desire for protection. It happened to be Father's Day of 2002, I had not gotten my husband anything for this occasion. I had been researching German Shepherd dogs, but also knew that picking out a dog was something I wanted him to be involved in because of the great responsibility (we are not new to animals as we had two cats and another dog). I picked up the classifieds and happened across NUMEROUS ads for German Shepherds. I called a few but was greatly disappointed in their knowledge of the very pups they were trying to sell!!! Even I, the total beginner knew what questions to ask. My last call was to Cindi! WHAT A DIFFERENCE! I could tell she had such a passion for this breed. I told her that we were not looking for a show dog but rather a loving, family loyal protector. I am thrilled to say that is what we have in Kikka! She is a beautiful sable. I believe she looks very much like her mother. She is very content being the family watch dog and companion. She listens well but still has that puppy spirit that keeps the children occupied. You can see in the picture that even my 7 year old daughter, Alexandra, can easily control her. And my 4 year old son, Jared, has his opportunities as well. Thank you very much for a wonderful German Shepherd. Even though she was the runt of the litter, she turned out to be the champion in our hearts! From our Sheppard Family - Katherine, David, Alexandra, and Jared"
Katherine Sheppard

---
FOR MORE INFORMATION on True Haus Kennels
or any of our german shepherd dogs: james@truehaus.com
If you are an AOL user you will need to type my email address
james@truehaus.com
and not use the link to email


530-534-5678 James Reed