German Shepherd Dog
TRUE HAUS KENNELS
TOP QUALITY !

QUALITY ISN'T EXPENSIVE..... IT'S PRICELESS!!


since 1968





BREEDING AND TRAINING GERMAN SHEPHERD DOGS
---


This litter has be placed
This is a repete breeding to see one of Esko and Stella's pups from their first litter click here (Edda)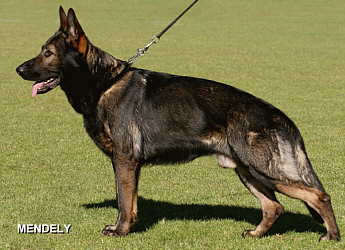 ESKO vom KLAMMECK

IPO3, FO, PD1, P1, P2S, CD, CDX
Korklasse 1
IPO3 multiple times with very good scores
tracking 98, obedience 90, protection 94.
hips a normal, elbows normal
Black Sable
SZ-Nr. 2201554
tattoo-Nr. S-D 6028
AKC # DN30099301
Date of birth 4/10/2007
height 26 inches, weight 95 pounds

Esko is eye-catching to say the very least. Stunning black sable color with a magnificent broad and substantial head with loads of character and wonderful expression. Strong bones with fluid movement. Good overall impression of firmness and strength. Absolutely rock solid temperament with great capacity to handle stress. Can go anywhere, anytime, day or night, totally self-confident and ready for anything. Shows an excellent relationship with his handler in obedience with quick and reliable reactions to the commands. Strong drive in protection demonstrating full, hard grips and intensive guarding in the bark and hold exercise. Launches and hits with full commitment on the long distance courage test. Calm and secure inside the home. We are very fortunate to be able to add him to our kennel.

For more pictures of Esko click here

ESKO'S PEDIGREE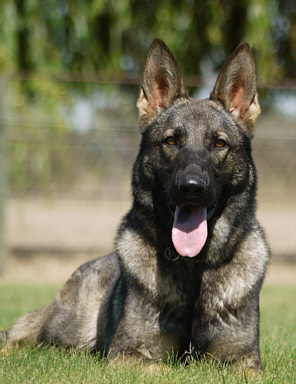 Stella vom True Haus
FO, P1, PD1, P1S, CGC, CD, GN
AKC# DN26439905
micro chip#050-817-777
OFA fair
DM- carrier GS-DM1471/25F-VPI-CAR
Date of birth: 12-22-2009
Sable
height 24 inches
weight 70 pounds

Stella is one of our puppies we are raising out of
Nick and Odessa.
You can find information on Stella's sire Nick on this page page here
You can find information on
Stella's mom (Odessa) and grandmother (Sankt) on our pastdog page here
Stella is a Tommy grandaughter.
Stella is a large and substantial dark sable. Masculine features, strong bones and broad powerful head with intense expression. Friendly and outgoing disposition, self-confident and secure temperament with pronounced play drive. Shows natural innate desire to learn and perform, with genetic capability to learn quickly. Enjoys the protection work, strikes quickly showing full hard grips on the sleeve.
11-6-2010

To see more pictures of Stella growing up and videos of her working click here

STELLA'S PEDIGREE

12-21-12 Week one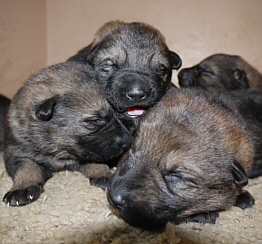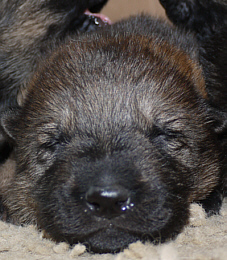 12-26-12 Week two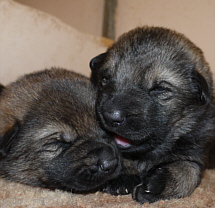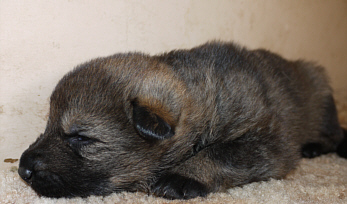 12-31-12 Week three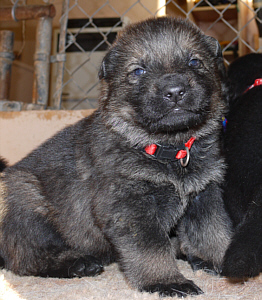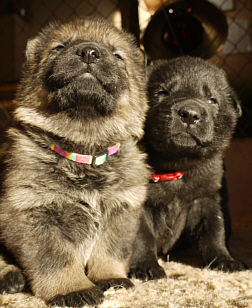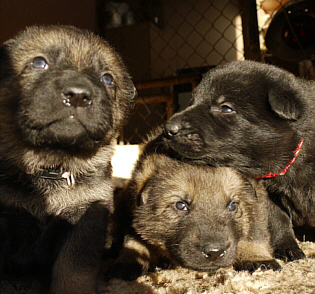 1-7-13 Week four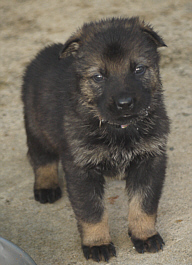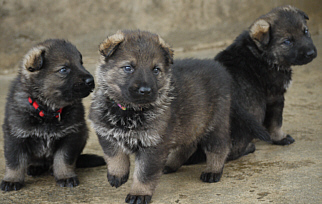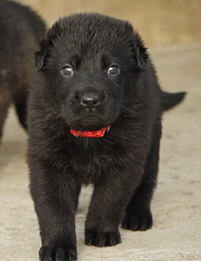 1-17-13 Week five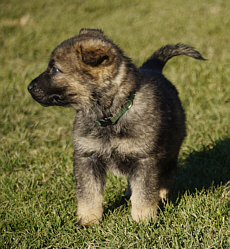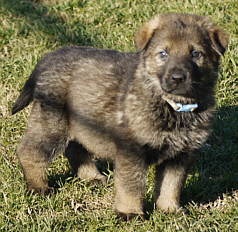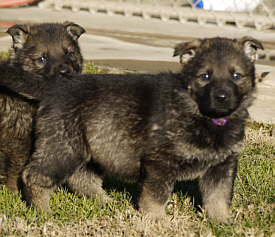 1-21-13 Week six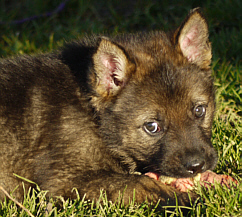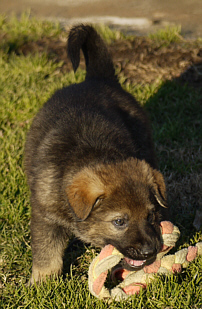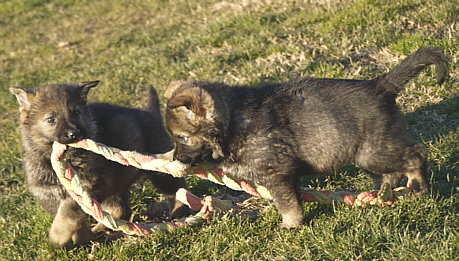 1-28-13 Week seven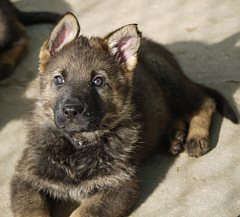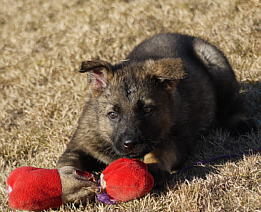 ---


5-12-13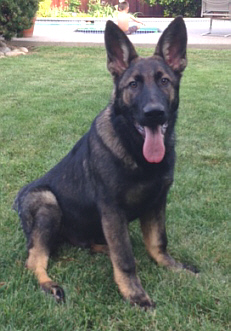 Hi Cindy
Just giving you an update on Eagan who we got in January. He is doing wonderful.
He's very smart so training is going well.
He has adapted great with us and our two kids. We get complements about him from people all the time when we take him places.
Thanks again for an amazing dog.
Landon Jones






10-11-13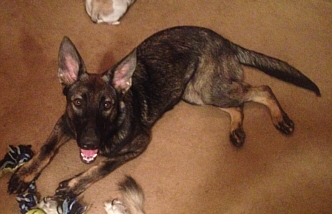 Just wanted to give an update of Layla (Esko-Stella 12/2012) for your website!
She is my first working line and first female. If I had to sum Layla up in 3 words or less it would be "NERVES OF STEEL"!
I could go on and on listing scenarios in which she amazed and impressed me with her rock solid temperment,
for example I do not have any kids so she did not get as much exposure to kids as I would have liked -
however I took her to a family function about a month ago which consisted of about 15-20 people
that were total strangers to her in an unfamiliar house.
I had her leashed to my waist and I looked down and my 6 year old nephew was standing literally eye to eye with her -
centimeters from her face - patting her on top of the head. She didn't flinch!
Yet another time we were at training class working on "Look at me" and the trainer's 4 year old son had run out in to the area and ran directly next to her - she never broke her gaze on me!
In addition to her solid nerve she approaches every task with 110% of her effort, she lives for the frisbee, and although we probably will not pursue it she would absolutely excel at Schutzund or any other sport.
My senior male is slowing down and I will certainly look to True Haus to get a male when the time comes.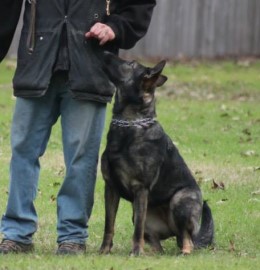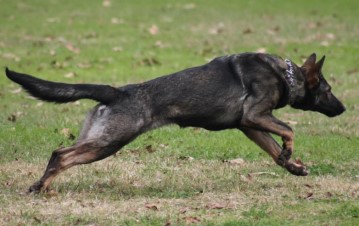 12-31-14
Layla (Esko/Stella Dec 2012) is 2 years now - here are a few pics of her at Advanced OB while I was out of the country for a few weeks.
The trainer specializes in working line GSDs and said Layla is definitely a well bred, "tough" dog - very trainable and loves to work.
I brought her pedigree for review and he said that her personality is exactly what you would expect by looking at her lines -
but this I am sure you already know as ya'll are so good at what you do!





---
HOME
FOR MORE INFORMATION on any of our german shepherd dogs:
530-534-5678
James Reed