German Shepherd Dog
TRUE HAUS KENNELS
TOP QUALITY !

QUALITY ISN'T EXPENSIVE..... IT'S PRICELESS!!


since 1968





BREEDING AND TRAINING GERMAN SHEPHERD DOGS
This litter has been placed
FINALLY the long awaited breeding between Kato & Esta has taken place. Both of these dogs are very TOP level working dog. Both give all they have to the task at hand. Their kind of working drive and energy comes from deep within their HEARTS.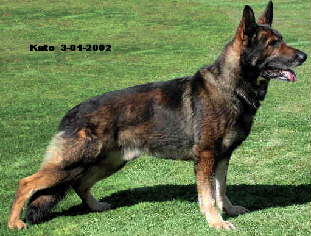 QUATTAN VENUSINA SOPKA
call name " KATO"
AKC #DL869602/01
Date of birth 2-22-1997
CD,OB1,IPO 3, SchH3, FH
attendant of
Czech Championship
in IPO in 2000
5VQ1/P 1st breeding class,
velmi dobry
HIP RATING 0/0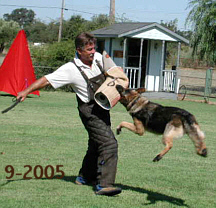 This is Esta when she is NOT bussy haveing puppies
ESTA von der WUTACHAUEN
TR1, SchH3, AD, KKL 1,
a-normal, red SABLE
SZ-Nr. 2065527, Tatow-Nr. M-A 7595
AKC #DN06149701
Date of birth 5-22-2000
week two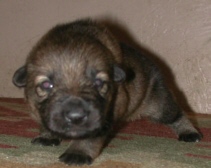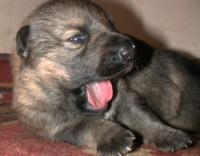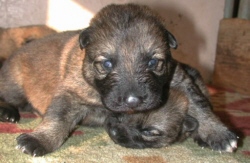 week three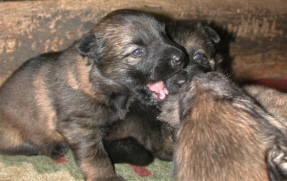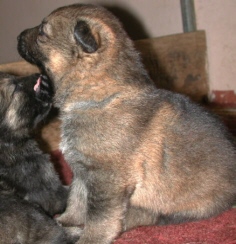 week four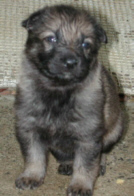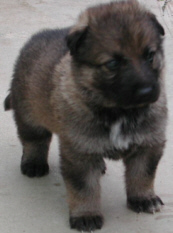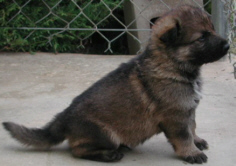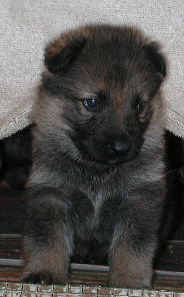 ---
Puppy updates:
1-5-2005
Kato & Esta female
Kala vom True Haus
Oroville, Ca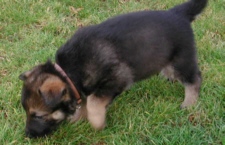 Dear Jim and Cindy
I want to thank you for your continued support over the loss of my first puppy (Edda). The accident happened so fast and unexpectedly. I had her a short time yet fell in love instantly the moment she came home to me. I will miss her and wonder what could have been for a long time.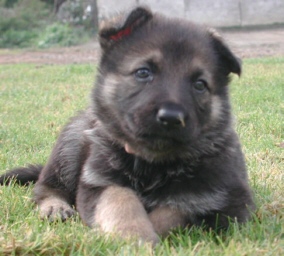 My family and I still can not get over you giving me Kala from the same litter to fulfill my empty spot that my beloved Edda left. You had no legal obligation to do what you did in fact you lost out on a sale, yet you went way above the breeder responsibility and replaced her at no charge what so ever. You are truly dedicated to your customers and I will continue to be one for life. I am proud to say that you at True Haus Kennels are the best and I would recommend you to anyone who deserves one of your working German Shepard dogs. I will forever be in your debt.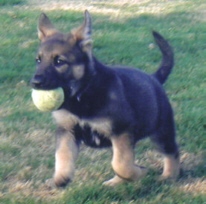 I'm really enjoying Kala. She is so quick to learn and does it with a willing attitude. I have never had a puppy with so much prey drive and such a willingness to learn. I look forward to the fun that still lays ahead. I know that Kala and I have a ways to go before we start any serious training and I am truly enjoying the puppy play that we are going through now. I want to thank you for all the wonderful advice that you and your wife have given Kala and I we both would be lost without it. Kala and I enjoy learning with you on Sunday's and look forward to each one. Thanks again for a wonderful puppy. I will do my best to take Kala as far as I can to show everyone your dogs are indeed the best. I only hope my inadequacies don't slow her down:) Wishing you the Best,
Christine and Kala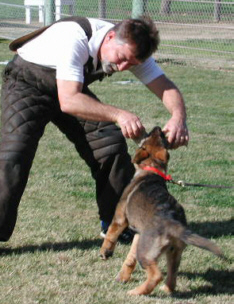 Kala at 9 months of age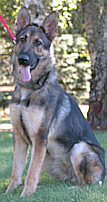 1-8-2005
Kato & Esta female
Jada
Ft. Myers, Fl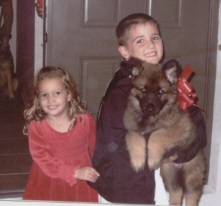 Dear Jim and Cindy
Here is a picture of our beautiful addition "Jada" and the kids. It was taken on Christmas eve. Jada is doing so good and adjusting to her new home very well.
Kole and Jada have become inseperable. We will keep you posten on her doings.
Thank you again for such a beautiful dog with a great dispostion. She is truly loved by all.
Sincerly
The Dunn Family
1-9-2005
Kato & Esta male
JayZ
Eugene, Oregon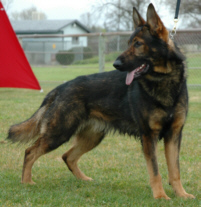 Dear Jim & Cindy,
Wanted to take a minute and say THANK YOU again for my wonderful puppy, JayZ. Of course I will keep you updated with pictures and how heís doing as we start training. I have not a doubt that he will be a wonderful competition dog and we will make you proud. With parents like Kato and Esta how could he not !
I also have a few words for you to add to your ďcustomer commentĒ section for those who may be considering the purchase of a pup from True Haus in the future.

I purchased my first Schutzhund prospect puppy, Fee vom haus Kaiser, from the Reedís in December 2001. Over the last three years we have kept in touch exchanging emails and pictures of Fee as she matured. Most breeders will keep in touch for a few months and inquire how the pup is doing, but the Reedís genuinely care how the dog is doing over three years later !

They have always been available and willing to help with any questions or problems I have had with training. Jim & Cindy just donít breed puppies, they train and work with their dogs, which to me is very important.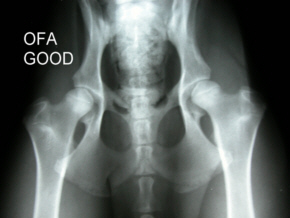 I have visited their kennel four times now and every time was impressed. The dogs are healthy both nutritionally and mentally. The dogs have clean living areas, fed quality food and receive veterinary care if needed. Regular exercise and training is taking place several times a day, every day. They donít just sit in kennels and produce puppies.

Last summer I got the terrible news that my wonderful Fee, suffered from Bilateral Hip Dysplasia. I was devastated. When I contacted the Reedís to give them the bad news they told me how sorry they were and to let them know whenever I was ready for a replacement puppy. Fee was from an imported litter that the Reedís imported from Germany. They stood behind her 100% even though they were not the breeders.

JayZ is my new pup and I look forward to many years of fun as he gets me trained. Iím looking forward to the day that I can call and let Jim & Cindy know that JayZ got a high score for his SchH 3. Until then I have two wonderful dogs from True Haus and have met some really good friends in Jim & Cindy.

I will end in saying, if you are looking for a REPUTABLE breeder that also knows dogs and training, you canít do better than Jim & Cindy Reed from True Haus.

Sincerely,

Debbie
email Debbie here
Eugene, Oregon
If you would like to see Fee vom haus Kaiser, Debbie's first dog click here

1-22-2005
Kato & Esta male
Riker
Oroville, Ca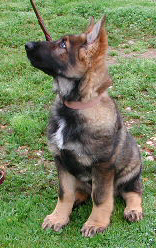 Thank you Cindy and Jim Reed for my wonderful Riker. He is now 4 months old, beautiful and very well.
I chose True Haus Kennels because I live locally and was able to watch the parents of my puppy. Thier breeding program is correct and serious. Thier kennels are always clean and thier training program is avainble to all thier puppies.
My goal in trainig is to help Riker be as great as he can be. Also to love him like a family member.
Pat Alley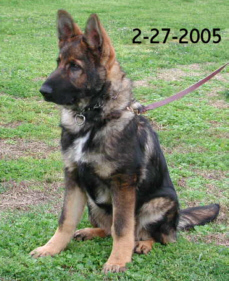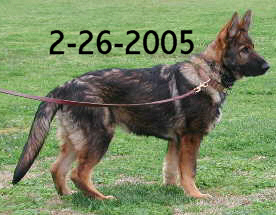 ---
---
HOME
FOR MORE INFORMATION on any of our german shepherd dogs:
530-534-5678
James Reed